We are excited to be sharing a recipe for a traditional German Gugelhupf cake.
Gugelhupf cake was traditionally served with coffee at breakfast or an afternoon tea and was often called the poor man's cake.   Doing a little research on this cake, I found that it was common in Germany and Austria.  The cake is made in a Bundt or tube pan and there are countless variations of this recipe from marbled cakes to cakes containing fruits and nuts.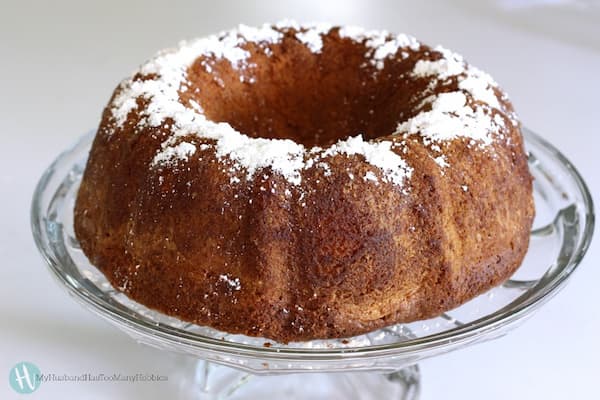 The recipe I'm sharing today is my Grandma's recipe.   She lived in a simpler time, when the best form of entertainment was visiting with family and friends.  She was always ready for company with a treat to share, or at least it seemed that way to me.    I had always thought of this cake as a pound cake, but it is actually a sponge cake.
I did not have a copy of the recipe, but was thrilled to be able to track down a copy from my Aunt.  She sent me a copy of her hand written recipe and I immediately recognized my Grandma's handwriting.   I had never made a cake from scratch before, and was a little intimidated to try it, but it was actually pretty easy to do.
It's been over 30 years since I've had a slice of this cake, but it was just as delicious as I remembered it to be.  The only thing missing that would have make this treat perfect, would be my Grandma sitting at the table with me.
Ingredients
1 cup Crisco or margarine
2 cups sugar
6 eggs separated
1-1/2 cups sifted all purpose flour
1/2 teaspoon salt
2 teaspoons baking powder
6 tablespoons milk
2 teaspoons vanilla
powdered sugar (optional)
Instructions
Cream shortening and sugar together, beat until light and fluffy
Beat in egg yolks one at a time
Mix & sift flour, salt & baking power
Combine milk & vanilla flavoring
Add flour mixture & milk alternately to butter mixture stirring in gently, but thoroughly
Beat egg whites stiff but not dry, fold in thoroughly
Spoon into well greased pan tube
Bake at 350 degrees for about 1 hour or until cake tests done
Cool in pan 10 minutes. Put on cake rack to cool.
(optional) dust with powdered sugar
Here's another family favourite recipe from PURPLE HUES AND ME for a Strawberries and Whipped Cream Cake Roll!